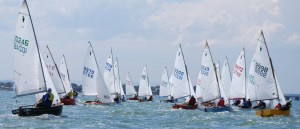 Links to Heron Sailing Clubs | PHOSC  |    CRSC  |   CPSC  |   NLSC  |   DAC  |   MHHSC
Join Us Now!
Social club sailing    Interclub racing    Open and Youth State Championships    National Championships
For a genuine family sailing experience you can't beat a Heron. The NSW Association actively promotes the class and encourages new members to join – from beginners to experienced sailors who may be looking for ways to introduce their children to sailing. The association organises inter-club competition, State Championships as well as a Youth State Championship. The Heron is ideally sailed by an adult and child (5 to teens), two adults or two teens, for example. Learn to sail classes are available from different clubs – go to the links above.
The NSW Heron Sailing Association will be hosting the 2016-17 season presentation night at Dobroyd Aquatic Club on 3rd June 2017. 
Trophies to be awarded for the Inter-Club Series, NSW Heron State Titles and NSW Heron Youth State Titles.
The dinner will be fully catered. This will include spit roast Beef and Chicken, salads, dessert, tea and coffee. Vegetarian option available if requested on ticket form. Soft Drinks, Alcoholic Drinks, water and tea and coffee will all be available at the club! As always ticket prices are very light on the wallet with adults only $15, children under 14 $10 and children under 7 eat for free. Please RSVP by May 29.
Order your tickets to the presentation night here!
Contact us: Like more info? Email NSW President Jason Groves: jason @ wilken.com.au 
Links:  Boats and parts for sale      National Heron Sailing Association     Heron Forum